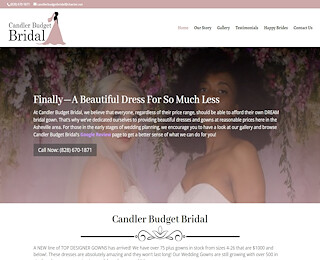 Planning your wedding is a time-consuming and challenging job. You need to stay within your budget, yet there are so many expensive things to purchase. One of the most important is your bridal gown. You have probably spent hours looking through bridal magazines and online forums to view gorgeous dresses. Unfortunately, many of the dresses that are included in these magazines can cost thousands of dollars. When you want a beautiful wedding gown in Asheville, NC, that fits your budget, choose Chandler Budget Bridal. We sell beautiful dresses at reasonable prices.
How Much Should A Wedding Gown Cost?
Wedding gowns can be one of the most expensive parts of your wedding. If you purchase a designer wedding dress, it could cost thousands of dollars. Frugal brides know that they can buy a beautiful wedding gown in Asheville, NC at a price that won't break the bank. At Chandler Budget Bridal, we have a large selection of gowns that are all affordably priced. None of our wedding gowns has a price tag of more than $600. You can view our dresses at our shop near Asheville.
Tips for Choosing the Perfect Wedding Gown in Asheville, NC
There are several tips for choosing the perfect wedding gown in Asheville, NC. Determine your budget before you start shopping for a dress. Gather some ideas from bridal magazines so you can find a similar style. Try on a selection of dresses to find one that looks the best. Remember that sometimes a dress may not look as good on the rack as it does once you try it on in the fitting room. Consider the style and neckline that flatters your figure. If you are planning to lose weight before your wedding, wait to choose a dress until closer to the date. Bring your mother and friends along to help you select the ideal bridal gown.
What Are the Advantages of Choosing a Budget Bridal Gown?
You don't have to spend thousands of dollars to look beautiful on your wedding day. A budget bridal gown offers you the same looks as more expensive dresses with a much lower price tag. Remember that you only use your gown once and then you pack it away. You don't want to waste money on an expensive dress when we have all the same styles here at Chandler Budget Bridal. We carry all sizes ranging from 2 through 32. We have more than 500 gowns in stock with more than 100 in plus sizes. You can find a beautiful dress you can afford and bring it home immediately. You won't have to wait for months to get the dress you love.
About Chandler Budget Bridal
When you want to shop for the ideal wedding gown in Asheville, NC, look no further than Chandler Budget Bridal. We don't sell cheap dresses – we sell quality bridal gowns at a discount. You will save money and time when you opt for a dress from our shop. Visit our bridal shop today for friendly help choosing the dress for your special day.  
Wedding gown in Asheville NC
Candler Budget Bridal
8286701871
1245 Smokey Park Hwy
Candler
NC
28715
View Larger Map
We welcome your comments!