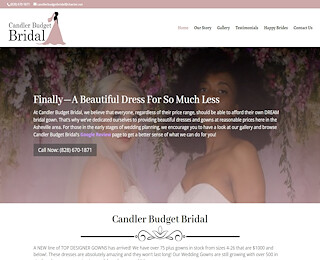 Shop for beautiful wedding dresses in Candler, NC when you visit Candler Budget Bridal online. Our gorgeous wedding gowns are priced right, so you can find the perfect dress for your wedding day. If you've been pricing dresses only to find that they maxed out your budget, you'll be pleasantly surprised by the prices of our dresses and gowns. We invite you to browse our gallery and our Google reviews to see how to take your budget further than you ever imagined. Feel free to call our staff at 828-670-1871 with any questions or reach out to us for directions to our bridal shop.
3 Ways We Keep Prices Low At Candler Budget Bridal
1. We provide affordable wedding dresses in Candler through a commitment to meet the needs of our customers. We're content with a modest profit on our dresses, therefore you'll discover that we can offer the same dress as other stores at a much lower price. If you're tired of every item on your wedding list costing you a fortune, you'll adore our affordably-priced wedding dresses in Candler, NC.
2. Instead of maintaining an inventory filled with thousands of different dresses, we choose to keep things simple at Candler Budget Bridal. With 75+ dress & gown styles and over 500 items in stock, we can meet the needs of our clients in a very practical way. As you search for an elegant and stylish wedding dress, keep in mind that you'll find the best low-budget wedding dresses when you visit our online dress shop or stop by our bridal store.
3. We make it our priority to always have affordable wedding gowns available to our customers. Other local bridal shops have a high overhead, which is not the case with Candler Budget Bridal. You won't find extravagantly decorated bridal rooms for you and half your guest list when trying on your dress, or makeup and powder rooms where you can recreate your wedding day beforehand; instead, you'll find a beautiful selection of gowns that are priced to sell- some of the most beautiful wedding dresses in Candler, NC are found in our inventory. Our shop has space to accommondate you and several of your friends when shopping for a gown.
Work With An Experienced Consultant
We have someone on hand for your appointment day who will work closely with you to help you choose the perfect dress. Our consultants have one goal- to make your wedding day dreams come true. New designer wedding gowns are available in sizes from 2-26, priced at $400 - $1,000, perfect for any budget.
Schedule An Appointment At Candler Budget Bridal
Call our staff right now at 828-670-1871 and let us know when you want to come in to browse and try on dresses. Find us on the Google map on our website or ask for directions when you call us. Don't forget to connect with us on social media or bookmark our website to stay in touch with Candler Budget Bridal.
Wedding Dresses Candler NC
We welcome your comments!