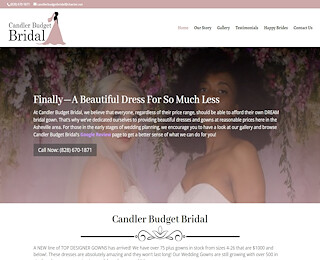 Your search for a budget wedding shop in Asheville, NC with gorgeous wedding dresses priced affordably is over; Candler Budget Bridal has your perfect dress in stock. Request an appointment to work with our professional consultant and choose from more than 75 different dress and gown styles. Wedding dresses in Candler and surrounding areas have never been this affordable. At Candler Budget Bridal, we've set a goal for our company to make sure every hopeful bride has access to the gorgeous dress of her dreams, no matter the size of the wedding budget.
5 Reasons to Purchase Your Wedding Dress From Candler Budget Bridal
1. Our dress shop is consistently known for carrying the best low-budget wedding dresses around. With prices from $400 - $1,000, you're sure to stay within your budget and walk out of our store with the dress you've been dreaming about since he first popped the question.
2. At Candler Budget Bridal, a lower price doesn't mean you have to settle for less. In fact, you'll find the most gorgeous gowns and dresses in our inventory- spend a few minutes checking out our dress gallery online and see for yourself how our affordable wedding gowns are every bit as lovely and stylish as dresses that cost significantly more.
3. Choose from many different styles at Candler Budget Bridal:
Backless wedding dresses
Strapless gowns
Extravagantly laced dresses
Dresses with long trains
Floor length dresses
Lace train dresses
Lace strap dresses
Speghetti strap dresses
Chic sleek dresses
Princess wedding gowns
And so many more!
You have to see our inventory with your own eyes to believe our customers' claims that we are the best budget wedding shop in Asheville, NC.
4. At Candler Budget Bridal, we have a reputation throughout the community as one of the most enjoyable local bridal shops to visit when you're planning a wedding. Bring your bridesmaids, mother, close friends, sister, and anyone else you want in the picture when you're choosing your wedding dress. We create memorable moments in our wedding dress shop.
5. Our goal is to create happy brides and we go to the ends of the earth to do exactly that. Feel free to look through photos on our website of brides who found the perfect dress from our shop, read testimonials from our customers, and get in touch with us when you're ready to schedule your dress shopping appointment.
We want to make you feel special when you're choosing the dress for your big day; like you matter tremendously, especially during this unique time in your life's story. To that end, we're here for you if you need advice or professional assistance selecting your gown. We'll help you find a dress that is both flattering and in-style. Why not call our staff at Candler Budget Bridal today to set up your appointment? We can answer any questions you have over the phone, provide directions to our bridal shop, and set the stage for a remarkable experience in our store.
Budget Wedding Shop in Asheville NC
We welcome your comments!